This weekend we had fun getting together with friends. We met at ChuckeCheese for a little excitement and then traveled back to our house for some dessert. The best part for Ethan was having a sleep-over with his good buddy Grant.
Unfortunately, I made the classic blunder of telling Ethan on Tuesday night that Grant was coming over. Not smart at all. I guess it must be hard not being able to truly measure or understand time. Every event of the next few days was somehow referenced to Grant's arrival. WHEN is Grant coming? Is he coming AFTER I eat lunch? When I wake up, will Grant be here then? We finally had to punish him for asking too much. One evening Ethan came and found me with a big smile on his face and said, "I'm so excited about Grant coming, my hands are wiggling!"
Chucky's was predictable anyway. Loud and crowded but the kids enjoyed it. Drew slept for a while in the baby carrier but was soon awake and squawking. I'm sure he was a bit over-stimulated by all the commotion.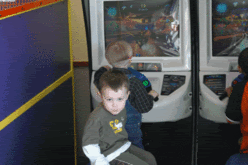 Thanks Lori for the
red velvet cake recipe
! It sure looked nice and the frosting was really good...think I may have done something wrong though because the cake tasted a little dry.
Ethan and Grant are close in age and play together well. They both love superheroes and were dressed in their costumes most of the time. At one point, Grant was going upstairs and said to Ethan, "Come on, Spiderman!" Ethan replied,"I'm on my way, Batman!" So funny to watch.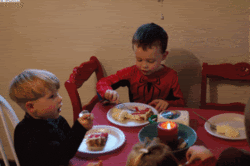 Keith created a little video clip of the boys with their "light savers" working on their Jedi skills.
Click here to watch the battle
(If it doesn't work when you click on it, try right-clicking "Save Link As")
This evening, as I was writing this post, Ethan turned to me and asked, "Can Grant come over tommorow?"