Blue, predictably my favorite color...isn't it everyone's? So today's photo was hard to narrow down. But I did. And here we are...putting our best feet forward.
And, I just have to post this clip that Keith made recently. He has been having lots of fun lately with his wireless microcam...setting it up in strange places and catching us all unawares, like the nanny cam in Meet the Parents. Fun! For him. He had the brilliant idea of attaching it to Ethan's bike helmet, a long and painstaking process which bore some amusing fruit. At first Ethan was a little reluctant but he warmed up quickly and rode around the neighborhood with the bizarre looking contraption sticking out over his poor head. At the end of this clip, Ethan is arriving at the playground, glancing nervously around at the other children. Who knows what kind of looks he was getting.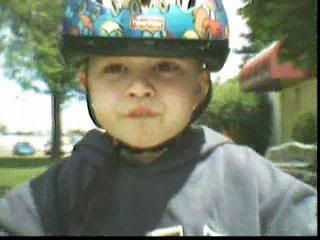 Watch the video
Backtack Update: I received my package today and so did my partner!! I'll be posting pictures of both tommorow...