The lighting is awful in some but I have more pictures to show off. Thanks for my new rocket pj's, Grandma!
And I finished the bib from
Mason-Dixon Knitting.
It certainly has that homemade look to it but it has a charm of it's own and was an easy, quick knit...and practical for sure.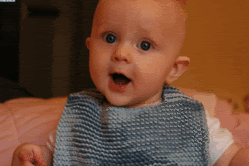 I try to update
Flickr
regularly.