For as long as I can remember, I've been mildly obsessed with rings. (Is there such a thing as mild obsession?) Anyway, it's a little bit sad because I really have rather unattractive hands. It's silly to draw extra attention to my hands by adorning them in any way. There is just something about an interesting, well-made ring that is endlessly fascinating to me and my collection has grown over the years. Sadly, my hands have done the same.
A few months ago, I discovered the
Etsy website
where people can set up shop and sell all sorts of handcrafted items from candles to clothing. I started browsing through the jewelry category and discovered a shop I instantly loved.
Gemmafactrix
features a wide array of unique, colorful and fun jewelry created by Brooke Medlin. Prices are pretty reasonable for handcrafted, custom-made art, I think.
I have since ordered a few items from Brooke and have to say I absolutely love her work and she is an excellent and accomodating person to deal with. And, no, I'm not being paid to say this, really. Her
feedback speaks for itself
. Makes me wish I could be a metalsmith meself.
Here's a couple photos of items she has made for me:
(Move your mouse over the photo and then off again. I just learned this cool photo trick
from a link.
)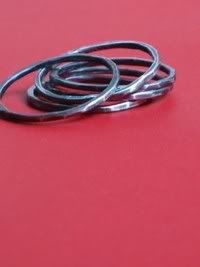 (Photos by
gemmafactrix
posted with permission)